I will never forget the Holy Week of 2004. The refugee resettlement group from our parish had been working for weeks with Catholic Charities to get ready for our first refugee family to arrive from the Democratic Republic of the Congo. We were excited and nervous. Would we be able to give them the assistance they needed to get on their feet after unimaginable difficulties and begin a new life here in the U.S.? (If you want to read about this family, there's still an
article about their arrival on the Catholic Sentinel website
).
Then, they arrived. And what was one of the first things the family did? They came to our parish for Holy Thursday services. The image of them standing tall, walking down the aisle of the church that night will forever be etched in my mind. Quickly they became deeply involved in the parish. I taught the younger children in Sunday School. The parents got engaged volunteering at parish events. They became enmeshed in the fabric of our faith community.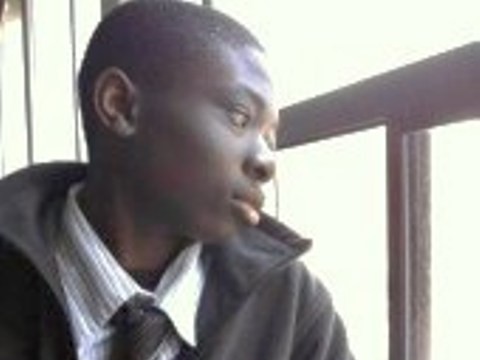 Prudence Eca
Flash forward to 2012. The oldest son, Prudence, just graduated from high school and has been accepted to attend Oregon State University in the Fall. He was received some scholarships, but still needs $8,000 to make this dream a reality. This is where you come in. Can you help him raise this money?
Visit his Go Fund Me Page to help.
From this point out, I'd like to let this amazing young man speak for himself.
My name is Prudence Dieudonne Eca.

I recently graduated from De La Salle North Catholic High School in Portland, OR.

In the fall I will be attending Oregon State University (Go Beavers!) where I plan to study Mechanical Engineering.
I am from the Democratic Republic of the Congo.

I came to the United States with my family in 2004 when I was ten years old.

Prior to being resettled in Portland, OR, I had lived in a refugee camp in Zambia with my family for seven years.

Catholic Charities working with St. Philip Neri Catholic Church welcomed us and helped us to settle here.
I could barely speak English when I first arrived.

It took me two years to before I felt confident in my ability to speak and understand English.

By the time I graduated from high school, I had studied AP English, AP Calculus, honors Economics and advanced Spanish.
As the oldest of six children, I have always had a strong sense of responsibility.

Both of my parents work in social justice, my father as a community organizer and my mother as a case manager working with refugee, immigrant and local communities.

They have instilled in me a deep sense of caring for others.

I have carried this forward as an altar server at St. Philip Neri Catholic Church, volunteering with the African Youth Conference and working for Food Works which is a non-profit youth organization that helps to grow business, community, farm and self.
My long-term goal is to use my Mechanical Engineering degree to create technologies that will help solve the problems of the world.

I've received some scholarships, but I still need about $8000 to cover my tuition, room and board for the academic year.

Your support means very much to me and my family.