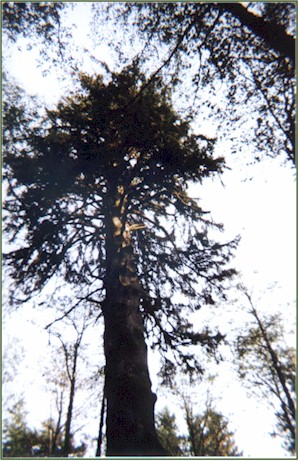 One of my favorite things about living in Oregon was being a few hours drive from the Oregon Coast. Whenever I took family or friends to the North Coast by way of Highway 26, we'd stop off to see the "Nation's Largest Sitka Spruce" near Seaside. (As an aside it turns out it shares that honor with a tree in Washington State's Olympic National Park).
This friend of mine has been around for an estimated 750 years. The Giant Sitka stands 216 feet tall, measures 56 feet in circumference and has a crown that spreads 93 feet.
It used to be you could walk around the roots of the tree. A number of people must have suffered the fate of my friend Kathy, who still talks about her "Sitka Spruce injury," as a few years ago they installed a wooden walkway around the tree.
The last time I went to the North Coast I stopped off to visit the tree. Boy am I glad I did! Turns out the experts think it's
reaching the end of its life span
. The tree has been spared the ax, but it's apparently going to fall over someday soon.

"It could last another 10 or 20 years, or it could fall over tomorrow," said Steve Meshke, Clatsop County Parks director. "It is at the end of its life cycle; that is the one thing we have all agreed upon. There is not much we can do at this stage, except keep everyone away from it and monitor it."
750 years. Can you imagine?